Results of the IEEE Iran section Election: Professor Vahid Ahmadi, Professor of the Faculty of Electrical and Computer Engineering, Tarbiat Modares University, became the Head of the IEEE Iran section in 2021
The meeting of the IEEE Iran Selection Committee was held in the presence of the members on Tuesday, 9/11/2016 at 20:15 via Skype, chaired by Dr. Fotouhi, in order to review the election results. Of the 603 eligible voters, according to the IEEE Database, 31% cast their ballots in November, with the following results:
Head of Section:
Dr. Vahid Ahmadi
Vice President:
Dr. Hossein Askarian Abyaneh
Section Secretary:
Dr. Maryam Taifeh Mahmoudi
Treasurer of the Section:
Dr. Mohammad Reza Yousefi
Source: IEEE Iran section Newsletter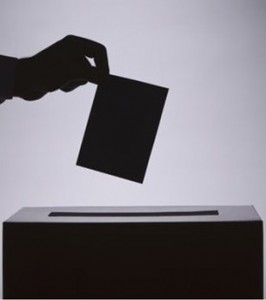 Professor Vahid Ahmadi is a Candidate for Chair and Vice-chair
of the IEEE section of Iran in 2021
Vahid Ahmadi received a Ph.D. degree in electronic engineering from Kyoto University, Japan, in 1994. He is a Professor in electronic engineering at Tarbiat Modares University (TMU), Tehran, Iran. He is a senior member of IEEE and the Vice-Chair of IEEE IRAN Section. He was the Head of the Semiconductor Department of Laser Research Centre, Tehran, 1994-2006. He was the Head of the Electrical and Computer Engineering Department of TMU, during 2006-2008. He was the technical and scientific Chair of 13th Iranian Conf. on Optics and Photonics, 2007, and the general Chair of the 16th Iranian Conference on Electrical Engineering (ICEE2008), 2008. He is a member of the Founders-Board of Optics and Photonics Society of Iran, the editorial board of the International Journal of Information Communication Technology Research (IJICTR). He has also been the Editor-in-chief of Modares Journal of Electrical Engineering since 2012. He is currently the Chair of Optoelectronics and Nanophotonics Research Group and the Head of Nano-Optoelectronic Laboratory at TMU. He is also an Advisor to Iran Minister of Science, Research and Technology Head of National Research Institute for Science Policy.
Candidates for the Board of Directors of the IEEE Iran section in 2021
Chair and Vice-Chair :
Dr. Vahid Ahmadi
Dr. Hossein Askarian Abyaneh
Dr. Islam Nazemi
Secretary:
Dr. Maryam Taifeh Mahmoudi
Dr. Vahid Nairi
Treasurer:
Dr. Mohammad Reza Yousefi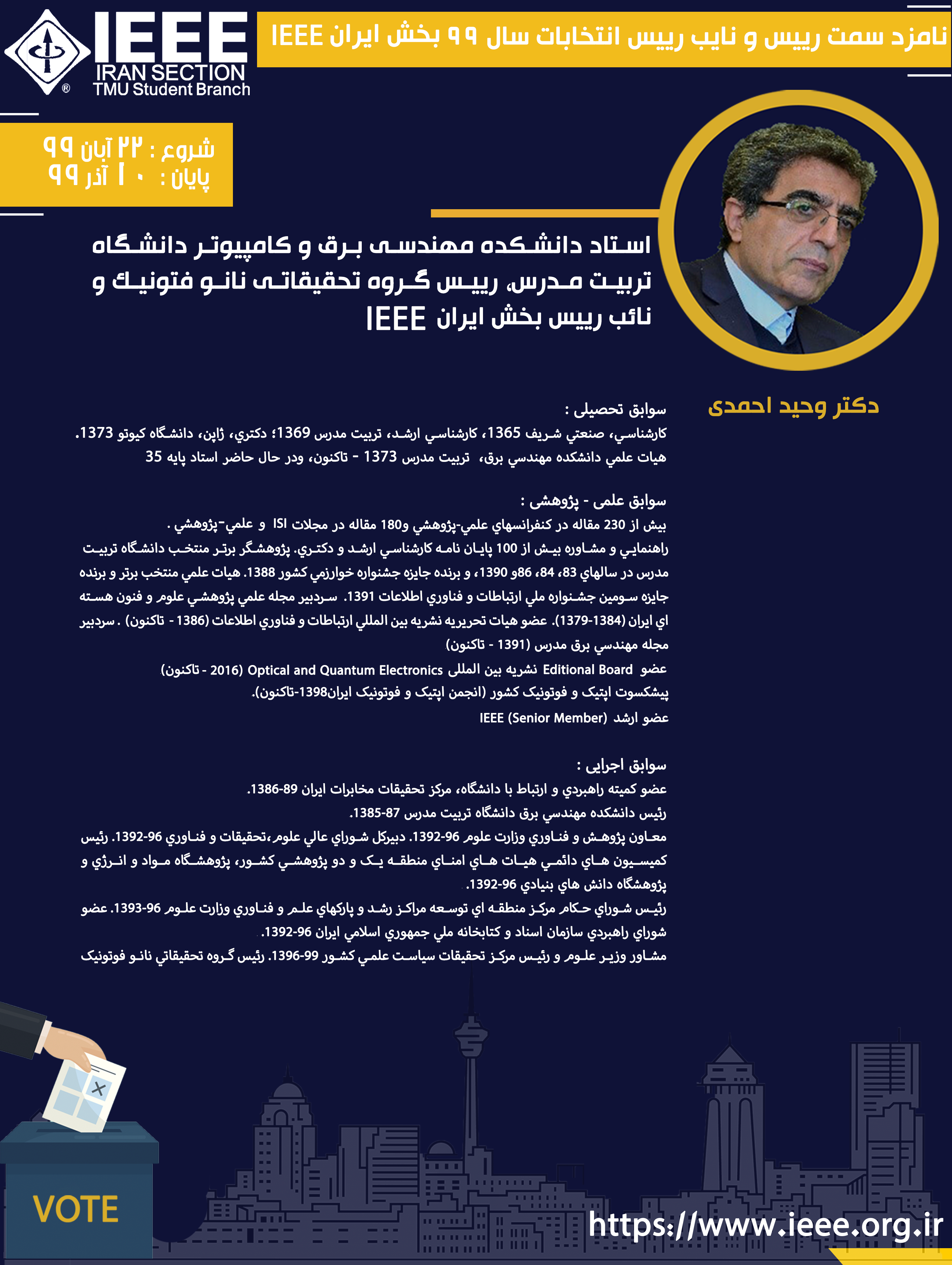 The 11th IEEE Iran section Awards Ceremony
Along with the valid certificate of Iran IEEE
Special guest: Prof. Vincenzo Piuri | Elected President of District 8 IEEE
With the presence of the Executive Committee, prominent professors in the field of electricity and computers throughout Iran, entrepreneurs and industry veterans, consultants and student branches
Awards:
Veteran teacher in education
Veteran professor of research
Professor Mohammad Hakak Research Award
Educational award of Professor Parviz Jabhdar Maralani
Professor Carlos Research Award
Professor Fakhraee Research Award
Veteran engineer in the industry
Top Entrepreneurs
Outstanding Student Branch Advisor
Women in Engineering
Youth Education and Research Award
Selected Ph.D. Thesis
Appreciated doctoral dissertation
Selected Master Thesis
Honorable M.Sc. Thesis
Selected undergraduate project
Honorable bachelor thesis
Selected student branch
Honorable student branch
Date and time: Thursday, November 12, 2020, 14:00
Participation is free
Ceremony registration link:
http://www.ieee.org.ir/11